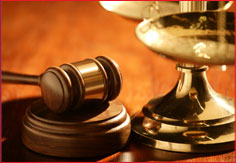 Verdicts & Settlements
My 20+ years as a board certified trial lawyer, where I handled a wide range of cases, has developed a flexible and innovative ability to handle virtually any issue Iím faced with.
Some Sample Cases that I handled were:
Several cases against nursing homes for abuse, neglect, malnutrition, dehydration, falls and bedsores.

Wrongful death of a young man driving to work before dawn whose truck struck a black bull in the middle of a road. Survived by wife and two small children.

Wrongful death of a man and baby at a railroad grade crossing. Obtained jury verdict of negligence and gross negligence by railroad. Secured a settlement prior to punitive phase of trial.

Wrongful death of a man killed while working in an aerial lift device. Survivors included his widow, parents and child.

Tractor-trailer rig ran into elderly female client's car. Client sustained a closed head injury.

Negligence case in which a small handicapped child was left unattended in an automobile with the windows up on a hot summer day while the man, employed as a caregiver, attended to personal business.

Wrongful death of a young girl at a railroad grade crossing.

Personal injury-motor vehicle case in which two children were injured while on a vacation trip in Colorado when the bus in which they were riding was involved in a collision.

Wrongful death of an oilfield worker who was killed when an object fell out the derrick. Represented the decedent's minor child.

Personal injury case in which a man was attacked by Rottweiler dogs.

Wrongful death case in which a pedestrian was hit by a car. Survivors included five adult children.