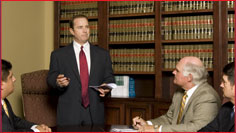 Frequently Asked Questions
Ask yourself these critical questions:
CONTEMPLATING OR ANTICIPATING LITIGATION?
Meeting with a seasoned and experienced trial lawyer before the situation turns into a lawsuit is many times the best way to avoid expensive, time-consuming and stressful litigation.
CAN MY OIL AND GAS, RANCHING, REAL ESTATE OR OTHER BUSINESS OPERATION BENEFIT FROM THE INPUT OF AN EXPERIENCED LAWYER WITH COMMON SENSE?
It simply makes sense to have an experienced executive available to assist you in making your operation as efficient as it can be. Having a portable general counsel at-hand gives you the flexibility to have access to many years of experience without the overhead of having a full-time general counsel.
CAN MY OPERATION BENEFIT FROM A RISK ANALYSIS REVIEW IN ORDER TO STRATEGICALLY AVOID LEGAL PROBLEMS OR LITIGATION?
An experienced lawyer and businessman can often quickly understand your overall operations and help you see where potential legal issues may arise. Know that your operation is going to be enhanced with a proactive approach to these potential problems.
AM I OR MY OPERATION CURRENTLY INVOLVED IN LITIGATION?
As a seasoned trial lawyer, Ray Williams will work with your outside counsel to develop strategies that will lend themselves to your strengths and reach the most efficient resolution of the matter within the shortest amount of time.
WOULD IT BE BENEFICIAL TO HAVE A STRATEGIC BUSINESS ANALYSIS?
With virtually any non-accounting specific problem, a Strategic Business Analysis means taking an analytical approach to individual problems or concerns and finding the right solution.
WOULD IT BE BENEFICIAL TO HAVE SOMEONE I TRUST MAKE A PERSUASIVE PRESENTATION ON MY BEHALF?
Studies have suggested and shown that public speaking strikes more fear in the majority of people than almost anything else. We can prepare you for presentations, participate with you or even make a persuasive presentation on your behalf.
WOULD IT BE HELPFUL TO HAVE A LAWYER REVIEW MY CONTRACTS AND NEGOTIATE ON MY BEHALF?
The time to build provisions into a contract to suit your needs and concerns is at the front-end, or before you enter into the contract. We can help build your understanding of critical considerations and work with you in examining issues that you may not have taken into account. Then we can negotiate these points on your behalf. This proactive approach by the executive team helps prevent problems on the back-end and is the crux of preventive law.
HOW ARE YOU COMPENSATED FOR YOUR SERVICES?
We are compensated on an hourly basis for our services and the reimbursement of expenses incurred on your behalf. We provide you with a detailed invoice of these.
WHAT GEOGRAPHIC AREAS DO YOU SERVE?
Our centralized location, together with Southwest Airlines and the Internet, allows us to be available virtually anywhere within Texas and Oklahoma. Where there is a need and desire for our services, we will be available.
WILL YOU COME TO MY OFFICE OR HOME TO MEET?
Absolutely, we will come to you. When you add us to your team, we integrate into your operation. That requires us to understand your operation and your needs. Periodic meetings at your operations is how we stay current.
HOW DO WE GET STARTED?
Simply give us a call. We will do a necessary conflict of interest check and set up an initial meeting. From that point, we map out a plan together.