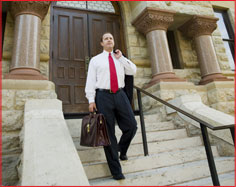 Executive Team Member without the Overhead
No Downside, All Upside
Papers Presented
Ray Williams, Executive and Management Counsel, leverages his extensive legal and professional background to provide fast, efficient and affordable services to individuals, families and private companies in need of a true problem solver.
With a solid track record and proven ability to identify problems, find solutions and build teams to accomplish your specific mission, Ray Williams is a unique resource. In addition to his experience, working with Ray means a higher level of discretion due to attorney- client privilege not found with your CPA or other financial planners.
If you are looking for a reliable advisor who can make a positive and immediate contribution to your legal and professional needs, call Ray Williams, Executive and Management Counsel serving most of Texas and Oklahoma.
DISCOVERING THE RAILROAD

A railroad grade crossing case can be one of the most challenging tasks that a trial lawyer could ever take on. Representing a victim in one of these cases involves multiple issues and a working knowledge of science, physics and mathematics. In addition, these cases can be very time consuming and expensive. As a result, effective and efficient discovery is important to achieve a successful resolution.
TRAFFIC CONTROL DEVICES AT RAILROAD:
HIGHWAY GRADE CROSSINGS

(Co-authored with Kenneth W. Heathington, P.h.D, P.E.)
Railroads consistently make the argument in court that they are prohibited from selecting and installing traffic control devices at railroad-highway grade crossings. While this argument is not correct, nevertheless, if the court is not aware of the application of the regulations regarding this issue, the argument may be made to the jury resulting in confusion as to whether nor not a railroad can actually select and install traffic control devices at a crossing.
IS YOUR CAMP A PLAINTIFF'S ATTORNEY'S DREAM?

(Are You Acting Responsibly Towards Your Campers?)
Most recreation and sports injury cases, including injuries at camp, arise in the area of negligence and/or premises liability. Generally speaking, no person, employee or sponsor is immune from a negligence lawsuit. When owners and employees understand and appreciate basic negligence law principles and incorporate that knowledge into responsible management practices, the number of injuries and resulting lawsuits can be minimized.