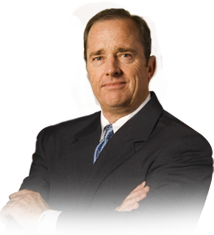 Meet Ray A. Williams
» Return to previous page
Ray Williams was born and raised in Dallas, Texas. He attended St. Mark's School of Texas and graduated in 1973. At St. Mark's he was captain of the baseball and wrestling teams, and in his senior year he placed fourth in state competition in wrestling. During his high school summers, Ray did construction work. He then enrolled at Trinity University in San Antonio, Texas, where he lettered in varsity baseball. During his college summers, he worked as an oilfield roughneck in East Texas, as well as one summer in the North Sea as a trainee assistant driller. Ray went to undergraduate school at Trinity University in San Antonio, Texas, where he received a degree in business administration in 1977. Subsequently he entered the Ranch Management Program at Texas Christian University in Fort Worth, Texas, which he completed in 1978.
Upon graduation from the TCU School of Ranch Management, Ray managed a 7,000-acre working cattle ranch near Hillsboro, Texas. During this time he was also a Reserve Deputy Sheriff and a commissioned Peace Officer for the Hill County Sheriff's Department.
In 1984 Ray entered Southern Methodist University School of Law in Dallas, Texas. In 1987 he graduated from law school in the top 15 percent of his class. He received the Outstanding Scholastic Achievement Award of Phi Alpha Delta legal fraternity, as well as American Jurisprudence Awards in Oil and Gas, Constitutional Law, and Financial Institutions.
Upon entering the practice of law in 1987, Ray worked at Vial, Hamilton, Koch and Knox in the commercial litigation department. After a year and a half, he joined the downtown firm of Cowles & Thompson, where his practice shifted to insurance defense in personal injury matters. Ray was later elected a shareholder in the firm. In 1992 Ray was presented with an opportunity to shift his practice to representing individuals and families in connection with their injuries and resulting damages. He joined the prestigious firm of Misko, Howie and Sweeney, where he practiced plaintiffs' personal injury trial law for approximately two and one-half years.
Upon the dissolution of the firm of Misko, Howie & Sweeney in 1995, Ray started his own law firm of Raymond A. Williams P.C., where he continued to represent individuals and families in many types of wrongful death and significant personal injury matters. Ray's tenacity, legal acumen and experience as an insurance defense attorney served him well in representing the interests of plaintiffs in wrongful death and serious personal injury matters. He became board certified in Personal Injury Trial Law by the Texas Board of Legal Specialization, and also became licensed to practice law in Oklahoma.
In 1999 Ray completed a program sponsored by the Association of Attorney-Mediators, Inc. and became a mediator. His knowledge of both sides of the bar, as well as his common sense and experience, made him an excellent dispute resolutionist. Ray was appointed by several courts to mediate cases.
In October of 2005, Ray became President and General Counsel of Sixx Holdings, Inc. and Knox Interests in Dallas, Texas. Sixx Holdings and Knox Interests currently have operations that involve restaurants, real estate, oil and gas exploration and development, and ranching. Ray's broad knowledge, education, and experience serve him well. Although he does not practice law on a daily basis, many legal issues constantly arise which continue to keep him sharp.
Ray is also a devoted husband and father, and is active in his church. In his spare time he likes working with his quarter horses, and is an avid tennis player. Ray also enjoys golf and boxing, and has studied self-defense techniques.